Description
When you're planning a special event, you want to make sure that each aspect of the event has a quality, professional touch. Ordering custom event tickets is a great way to give customers a wonderful first impression of your event. RBM offers ticket printing for events of all type: corporate events, concerts, plays and more. Our tickets work well for large functions, but they are also a great choice for smaller events for religious and non-profit organizations.
Custom Design
Custom Design Instructions:
Make your product selections and click Add-To-Cart.
Fill out the Customization Form and click Submit.
Pay for your item(s) and we'll be in touch via Email.
You will have 3 opportunities to review and revise your design.
To Order More Than A Single Product or Set:
Click the Plus + and Add-To-Cart
If you would like to order more of the same product, but with variations (for example a different name, or phone number, etc.), simply add an Additional Product Set to the Cart, and provide those instructions in the Customization Form. If you need to add completely different information, use the additional Customization Form found under Contact Us in the main menu.
You may also email us instructions at: orders@realbrandmarketing.com
Numbering
If you select Perforation and Numbering, Numbering will apply to both sides of the Perforation line at the position you designate (Top, Center, Bottom). If you do not select Perforation, Numbering will apply to the area designated by the arrows only.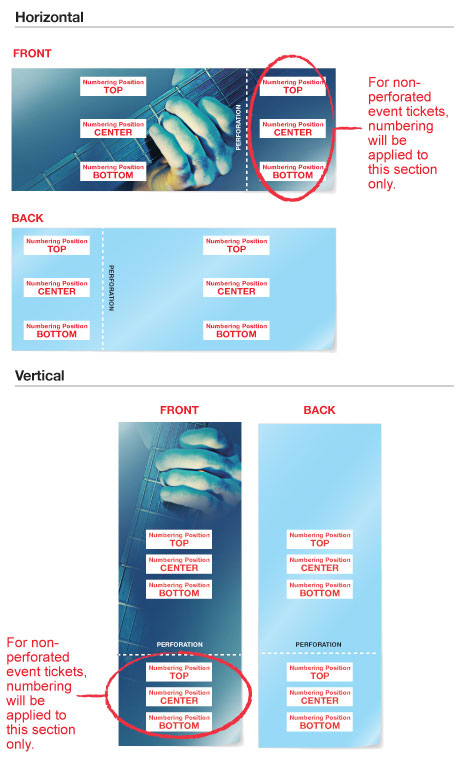 File Set-Up
We accept the following file formats: .TIF, .TIFF, .EPS, .AI, .PSD, .BMP, .GIF, .JPG, .PNG, .PDF.
PROOFS:
Manually Processed, PDF Proof: 24 Hours (Excluding Holidays): We will check your files and ensure they have the correct file specifications. If we find any problems with your files, we'll contact you, otherwise you'll receive a link to your PROOF to review within 24 hours.
Note: Prices include processing one set of uploaded files and creating a single proof.
Important: If you have submitted a CD of your files, the proof turnaround will begin after we have received your CD. In addition, for all orders during the holiday season, we will be extending our proof turnaround time by 1 business day. Files not built correctly may delay the order.
RESOLUTION:
Minimum of 350 dpi (dot per inch) resolution at 100% of the final print size.
Images designed for the web typically cannot be used for printing as they have a low screen resolution of 72 dpi. Print images need to be created at 350 dpi or there will be a substantial drop in the image quality.
COLOR MODE:
All color artwork and/or images must be provided in CMYK (cyan, magenta, yellow, black) color mode.
All black & white artwork and/or images must be provided in grayscale color mode.
We cannot guarantee 100% color match. We are able to match your color up to 85%, so there might be a 15% shift in color when your product is printed. We recommend limited usage of blues and reds, simply because they are the hardest colors to match.
BLEED:
0.1″ bleed    E.g., Final Size: 2″ x 5.5″    Size with Bleed: 2.1″ x 5.6″
Maximum file size for uploads: 75MB (megabytes) per file.
To reduce file size, please upload in .jpg format. If you choose another file format, please ensure all layers are flattened.
Paper
100 lb. Gloss Cover (C2S) with Aqueous Coating
Flexible, yet sturdy and rigid, our 100 lb. Gloss Cover is popular and versatile. Colors appear rich and vibrant, and the Aqueous Coating is sure to protect your product from damage. Writability is not guaranteed on Glossy stock. Please note, this is one of our thinnest card stocks.
14 pt. Gloss Coated Cover (C2S) with High Gloss UV
The Gloss Coated Cover is a long-lasting, heavy, and thick card stock with High Gloss UV Coating on the surface for exquisite shine and vibrant colors that come to life—it's no wonder it's our most popular stock! This stock has high color saturation for exquisite contrast and range. Our rich High Gloss UV Coating has the highest quality and provides protection against stains and damage. You cannot write or print on products with High Gloss UV Coating.
14 pt. Premium Matte
One of our premium stocks: this thick, uncoated card stock is writable and offers a slightly textured, natural, and understated appearance.
16 pt. Satin Finish
Our thickest and most impressive stock. This is a high-quality, tough stock (you can add High Gloss UV Coating for extra thickness, durability, and shine). The writable surface has Satin Finish for a slight sheen. This stock offers an overall subdued appearance with softer colors than our glossy stocks. Ideal for a classic, vintage look.
100 lb. Recycled Dull Cover with Matte Finish
Our recycled stock is just as impeccable as our non-recycled stocks. Silky and matte, this writable card stock has a slight sheen on the surface, and is elegant and refined. Colors appear soft and slightly muted, giving the 100 lb. Dull Cover a classic, vintage effect. Please note, this is one of our thinnest card stocks.
*C2S indicates (Gloss) Coated 2 Sides